Dalmatian
Fun-loving, smart and energetic, the Dalmatian is the most easily recognized dog on the planet owing to its uniquely spotted coat. The breed, commonly referred to as Dals, stars in movies like Disney's '101 Dalmatians' and possesses an outstanding job description, including being a coach dog and family dog.
Country of Origin

United Kingdom

Height

Male 23-24 In

Female 21-22 In

Weight

Male 45-60 Ib

Female 40-60 Ib
In a Nutshell
While the dotted coat makes Dals extremely attractive for a family dog or companion, this breed is not for everyone. Dalmatians have high energy levels, always wanting to engage in family activities, a character some might find overwhelming. But if you are looking for a companion for the morning runs or jogging, Dals will be your perfect partner. The Dalmatian has a muscular build with powerful hindquarters that gives them the ability to run long distances effortlessly. 
Dals are loving, dignified, and loyal dogs as long as they remain with their preferred pet parent/ handler. However, they can switch rapidly between reserved and goofy in the presence of strangers.
Life With a Dalmatian
Energy level
Trainability Level
Amount of Shedding
Tendency of Barking
Exercise Needs
Living Arrangements

Definitely a yard
Looks & Personality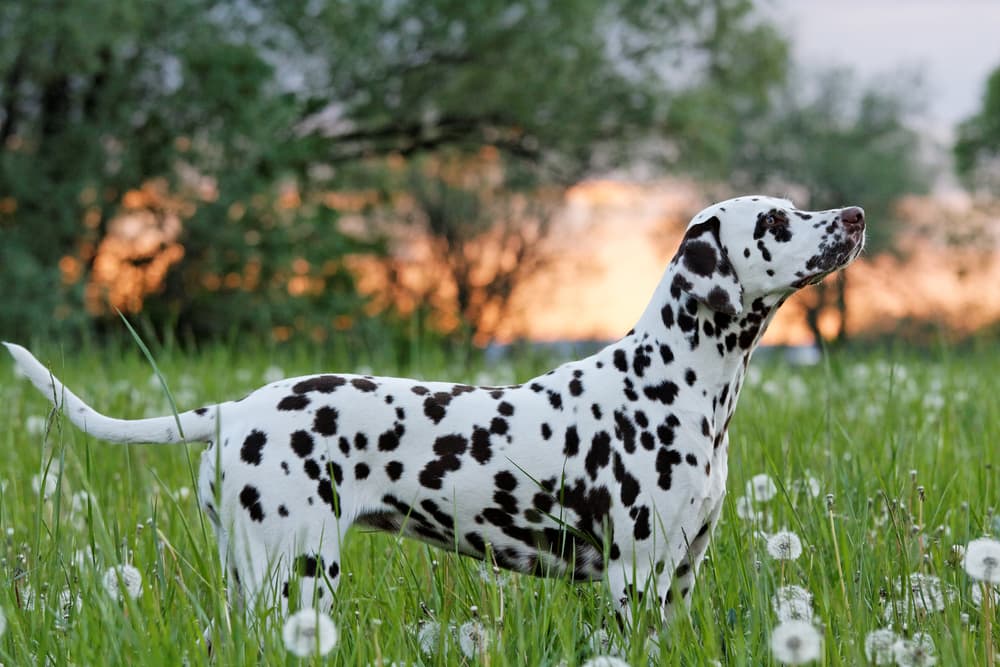 Recognizable from a distance, the Dalmatians' white coats with colored spots make them one of the most attractive dog breeds on the planet. Dalmatian coats can be either short or long. While the Dals stand out with their delightful, bright coats, the puppies are born sans-spots and develop their distinctive patterns from about two weeks after birth. Notably, no two Dalmatians have the same color patterns. Below the attractive coat of a Dalmatian is a lean muscular build making them one of the largest breeds in the medium-sized category of dogs. 
Built to run long distances, Dals are a hardworking breed with high energy levels that require space to exercise their muscular bodies. A well-trained and socialized Dalmatian is brilliant. However, the Dals can be pretty timid when confronted with new situations, necessitating initiation of training and socialization at a tender age.
Dalmatians love attention and are always eager to please their owner, making this breed relatively easy to train. But the Dals do not do well with harsh treatment. Give them food rewards, play, and praise, and the response will be excellent. Dalmatians possess a great sense of humor and will light up even the saddest moments. This feature, combined with a high sense of loyalty makes the Dals proven prodigious therapy dogs.
A tip from a vet
The Dalmatian dog is susceptible to congenital deafness which is thought to be inherited. The condition cannot be treated or cured, but controlled breeding could prevent or minimize the occurrence.
A tip from a trainer
Dalmatians are intelligent dogs with an eagerness to please their owners, making them relatively easy to train. However, they can be mischievous and stubborn sometimes, especially when harshly treated. Positive reinforcement with praise, food rewards, or play makes your Dals a well-rounded loyal family dog.
Did You Know
The Dalmatian puppies are born sans-spots and begin developing unique coat patterns after about two weeks.

Dalmatians used to serve as coaching dogs for horse-drawn fire coaches. With the invention of fire trucks, the Dalmatians weren't really needed anymore, but many firehouses still keep Dalmatians as mascots.

Just like no two people have the same fingerprints, no two Dalmatians have exactly the same pattern of spots.
In The News
Button, a daughter of one of Disney's 'Dalmatian 102' stars, made headlines when she littered 18 puppies bringing the total number of her offspring to over thirty in just two deliveries. This was a record high as the average litter size is eight. Previously, Button had delivered 16 puppies, although one was a stillbirth. Such sizes of litter seldom occur in other breeds of dogs.
Famous Dalmatian Owners
Ariana Grande, Patrick O'Connell, Joan Smith, Audrey Hepburn, Norma Jean, Scarlett Moffat
The History Behind the Breed
No one knows exactly where the Dalmatian originated. This may be because Dalmatians have often traveled with Romani people, who are historically nomadic. The Dalmatian takes his name from a place called Dalmatia, a province of Austria on the Eastern shore of the coast of Venice. We know for sure that the breed had a stronghold there, though we cannot be positive that it was their country of origin. Records show that Dals were deployed to run alongside horse-driven coaches, guarding the horses and rigs during breaks. This partly explains the breed's affinity for horses. Over the years, Dalmatians have performed different roles in various cultures, including being guard dogs, shepherds, circus dogs, coaching dogs, ratters, and retrievers without specializing in any.
If a Dalmatian Could Talk…
A Quick Anatomy Lesson
The Dalmatian, which has an average lifespan of 12 to 14 years, may suffer from minor health concerns like hypothyroidism, allergies, iris sphincter dysplasia, seizures, and major issues like deafness and urinary stones.
What about your Dalmatian?