Back to all articles
Pet Health Safety -Tips for Christmas
Yuletide festivities are more fun when pets join in, but the holidays can easily take a turn for the less-than-merry if pet lovers aren't careful. Learn more about common holiday season hazards.
11/28/2022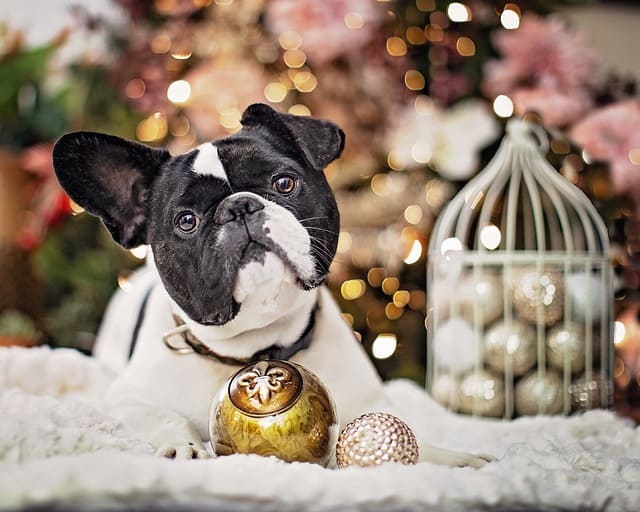 The Christmas season is here again! You've checked your list twice, but have you made pet care plans and taken necessary precautions? Holiday festivities can easily overwhelm pets and many common holiday foods and decorations present a serious health risk. If you've got pets at home who'll be joining in on the Yuletide cheer, read on to learn more about keeping them safe and merry this holiday season.
Christmas foods and pet health hazards
Just because you enjoy certain foods around the holidays doesn't mean your pet will – many holiday favorites aren't safe at all for pets. Here's a word of advice: when you prepare food for people, make sure you only serve it to people. Nobody wants a sick pet on Christmas Day.
If you're welcoming company to your home for the holiday, let them know ahead of time what your pet is and isn't allowed to eat. Pay especially close attention to kids.
Here are just a few of the potential health risks hiding in plain sight on your holiday table:
Bone splinters: Small pieces of bone from meat can be dangerous, especially sharp ones. A pet can swallow these pieces and cause injury to their mouth, tongue, esophagus, or further down their digestive tract. Avoid dropping bone splinters on the floor or in a garbage can without a lid.
Candy: Everybody knows that chocolate is unsafe for dogs and cats. Don't forget about other candies, which may contain hazardous artificial sweeteners. The toxic sweetener Xylitol is especially dangerous, so keep the sweets safely hidden from hungry dogs and cats.
Onions and garlic: Alliums make for tasty holiday dishes, but they're no good for pets. In addition to onions and garlic, alliums like chives. These foods are dangerous in any form – powered, dried, or fresh. If you'll be sharing some holiday foods with your pet, opt for unseasoned bites without additional fats and oils.
Seasonal plants and flowers can be toxic to pets
Not all flowers and holiday plants are pet-friendly. Some can cause diarrhea, nausea, vomiting, and kidney problems in pets. Avoid flowers like lilies, tulips, oleander, lavender, and eucalyptus. Opt instead for pet-friendly flowers like roses, Gerber daisies, orchids, freesia, and wax flowers. Remember to remove the thorns or keep the flowers in positions where they'll be out of reach from curious pets. Alternatively, you can use artificial flowers.
Avoid buying pre-assembled flowers as they may contain some toxic types. Unfortunately, not all bundles indicate the name of each flower. So it's best to ask ahead or make your own flower assembly.
A Christmas tree may not be toxic, but it can be hazardous if it's not firmly stuck in place. Ensure it's stable enough to prevent falling, otherwise, it might cause injuries to people and pets.
Poinsettias, the flowers most associated with Christmas, are considered mildly toxic to dogs and cats.
Keep Christmas decorations out of reach
Christmas can keep you busy to the point of forgetting your pet. You have meals to make, a house to decorate, and guests to welcome – some of whom you haven't seen for a year or more. When you're busy doing all that, your pet might be busy removing decorations before Christmas is over.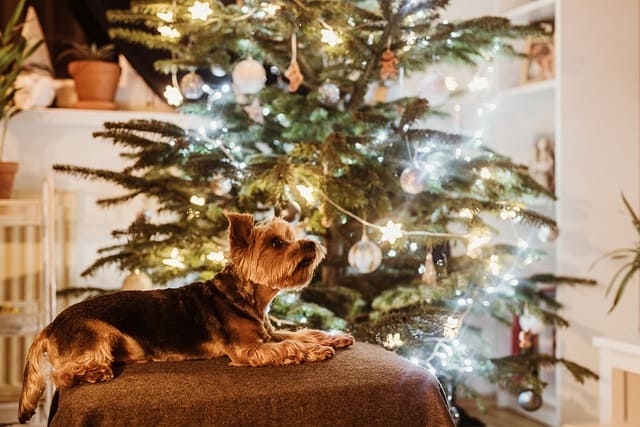 Since you can't always be there to babysit your pet, keep the decorations away from the ground where pets can't reach them. Christmas lights, in particular, may pose a danger because they're electrically charged.
The same thing applies to candles. Keep them out of reach of pets to keep the holidays merry. Curious pets might accidentally knock down a candle and burn themselves or cause damage to your home. That's not to mention the more serious risks an open flame may pose!
Help your pet have a stress-free Christmas
Christmas is always stressful and pets notice that disruption too. From having strangers in the house to disruption of their usual nap times, it can be overwhelming. But here's what you can do:
Exercise your dog. You might be too busy to walk your dog, but some of your guests might enjoy doing it. Why not let a familiar friend volunteer? As with humans, exercise can help pets relieve some stress.
Provide an escape room. If your dog is overwhelmed by a house full of guests, provide a place where they can rest without disturbance. It can be their usual cage, bed, or a spare room in the house. Equip their space with plenty of familiar, favorite items to offer some comfort.
Surprise them with new toys. Toys keep pets preoccupied. So, why not present your dog or cat with a safe, durable chew toy to divert their attention.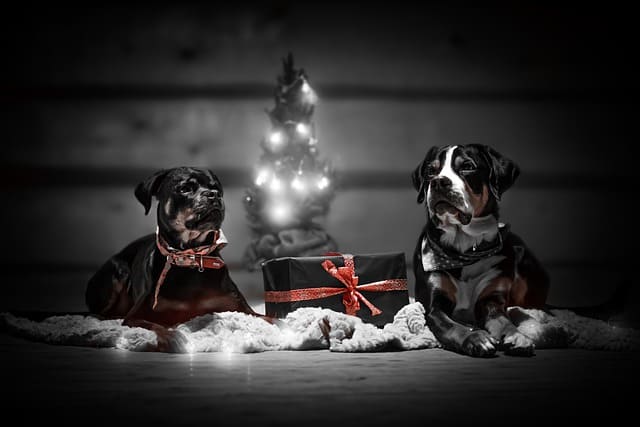 Involve your pet in your games. If you love playing games at Christmas, create at least one game that involves your feline or canine. Puzzle toys and games can help attract their attention even when you're not around.
How to Make a Delicious Festive Treat for Your Pet
Want to make some holiday foods for your furry friend? How else will they know it's Christmas? You can do so, but always make sure to use pet-friendly recipes. Make sure treats never make up too much of your pet's daily caloric intake and avoid adding treats suddenly. A dog's belly needs time to adapt to dietary changes, so avoid introducing heavy quantities of anything new.
Simple Christmas Cookies
If you don't have much time and need to fix something for your puppy, these are some of the easiest dog treats you can make.
Ingredients
2 cups of whole-meal flour
1 cup of peanut butter, all-natural
A tablespoon of baking powder
1 cup of nonfat Greek yogurt
Water
Directions
Preheat the oven to 375°F
Mix the ingredients using water to make a rollable dough.
Spread the dough and cut it into small parts.
Take a baking tray and spread parchment paper over the top.
Place the small pieces of dough on the baking tray and insert them into a preheated oven.
Let cook at 375°F for 15 minutes or until they turn brown.
Bacon Nut Treats for Christmas Morning
Let your dog know it's Christmas day by giving them delicious bacon nut treats in the morning. Here's what you'll need.
Ingredients
½ cup wheat germ
½ cup whole meal flour
1/3 cup peanut butter, all-natural
3 tablespoons of water
1 egg
1 tablespoon natural maple syrup
3 rashers of chopped bacon
Direction
Mix the maple syrup, egg, water, peanut butter, and cooked bacon fat.
Add wheat germ and flour to make dough.
Cut the dough into small cookies and place them on a baking tray.
Insert the tray into a preheated oven and let them bake for 15 minutes at 300° F.
Make sure to check with your vet before preparing any pet food at home.
Surveys by the American Pet Products Association suggest a majority of pet owners purchase holiday gifts for their dogs and cats. Members of Gen-Z were most likely to include pets on their shopping lists.
The Bottom Line
An emergency vet visit is the perfect way to ruin your holiday. Pet insurance can help, making it easier and more affordable to provide the best possible care. Get a quote today to learn how much you can save on pet care during the holidays and all year round.
Try to Beat Our Coverage
(Hint: You Can't)
Pet insurance is like having a sensible car with
a spare tire for life's bumps.
Having Animalia is like a top-of-the-line
Rolls-Royce with a swimming pool in the trunk.
Get your pet insurance quote
Is your pet a...
Dog

Cat