Back to all articles
Traveling With Your Dog? Here's Everything You Need to Know
Safely and confidently hit the road alongside pets with help from our detailed guide.
09/19/2022
Vacations are better when we can share them with pets, experiencing new sights in exciting locales and taking a break from the usual humdrum routine. Unsurprisingly, pet owners love to bring the whole family along on trips. Over a third of the nation's nearly 100 million dog owners reports regularly traveling with their pets.
With careful preparation, taking a vacation with your dog can be a fun (and even low-stress) bonding experience that helps you make new memories while saving on pet care. Keep in mind, however, that some dogs just simply don't enjoy traveling. If you're certain your pop wouldn't prefer the company of an experienced sitter or familiar kennel, follow our tips before embarking on your journey.
What are the risks of vacationing with dogs?
You should always consider all potential risks before setting on a vacation with your pets. Start by asking yourself questions like these:
How will I manage the stress associated with travel?
Does my dog ever experience motion sickness, anxiety, or other conditions that traveling could exacerbate?
Do you have a plan in place in the event your pet becomes ill or gets injured?
Will our destination introduce any risk factors like extreme temperature or weather?
Driving with your dog? Don't leave them unattended in an unventilated car – even for just a few minutes. Doing so is not only dangerous, but could leave you facing charges of animal cruelty in certain states.
Safety first!
The first priority when traveling with a pet should always be keeping them safe. A crate can play a multifaceted role, keeping dogs secure in the car and providing a sleeping spot in hotels. They're also a necessity for travel via most airlines and will help remind your dog of home wherever it is you're headed. Crates should be sturdy and offer enough room for your dog to stand up and turn around. Handles, grips, and plenty of ventilation are vital while a leak-proof bottom is also always a good idea. Add a "Live Animal" label clearly designating the crate's upright position along with your name and contact details. Put in some absorbent layers, a comfortable blanket, a water bottle, and a couple of your pooch's favorite toys to make it an effective home away from home.
Identification tags are another essential in case your dog is lost or stolen. Have your dog microchipped and make sure to register them with the appropriate pet rescue database. Your dog's collar should carry ID tags with their name, your name, and contact details related to your travel destination on it. Pack a recent photo too. If something goes wrong, it's easier to show someone a picture than to try and describe your dog in detail.
Keeping your dog healthy and happy while traveling
Pre-travel health checks
Book a physical and mental check-up for your dog before you travel and collect an extra supply of any medications they'll need.
Vaccinations
Make sure all of your pet's required vaccinations are up to date in accordance with requirements wherever you'll be traveling. Bring vaccination records along just in case.
Food
Bring along supply of your dog's regular food and some bottled water. This could be tricky in you're traveling by plane, so try to see if their favorite brand is available in your destination ahead of time. Collapsible food and water bowls are great space-saving accessories for long trips.
Bathroom breaks
Train your dog to eliminate on a variety of different surfaces before hitting the road. Don't forget their leash and a plentiful supply of poop bags!
Be prepared for emergencies
Find the number and location of your destination's nearest 24-hour vet. Bring along your regular vet's number in case an emergency vet needs to confer with them.
Games and toys
Travel with a few favorite toys as well as some new ones and swap them around regularly. Going on a long road trip with a pup who's prone to boredom? Puzzle toys can help keep them occupied for longer, especially if treats are hidden inside.
Dog-friendly apps
Pet travel apps make life on the road easier. Search out dog-friendly hiking and running trails on All Trails and details on hotels, restaurants, and more though Bring Fido. For medical problems, Pet First Aid by American Red Cross is another must-have pet care resource.
Safely driving with your dog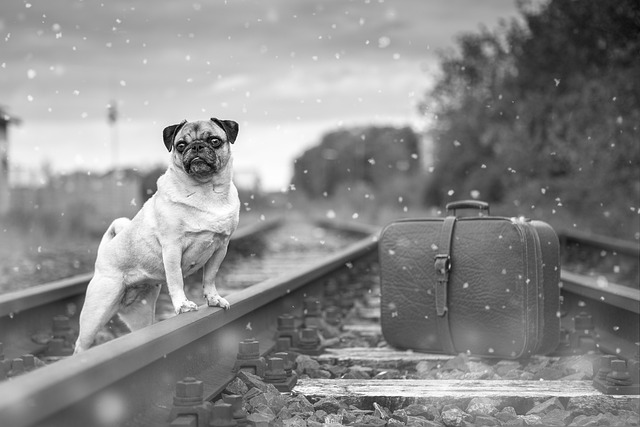 Make sure your dog is used to sitting in a stationary car and taking journeys of varying lengths.
Avoid car sickness by restricting food for a few hours (water is encouraged) before you set off and keeping the car well ventilated.
Give your dog regular access to water during the journey. Bring bottled water along in case you won't have access to clean running water for extended periods.
Keep your dog secure by using a crate, belts, and/or seats specially designed for them
Don't let your dog put its head outside the window. Sure, it's cute, but it also puts them at risk of deadly injury.
Plan for frequent exercise and bathroom stops and always clean up after your dog.
If you're planning to rent a car, make sure dogs are okay in advance.
Most important of all, never leave dogs alone in an unventilated car in any weather.
The International Pet and Animal Transportation Association reports that two million American pets fly with their owners each year.
Practical tips for flying with your dog
Flying with pets can be a minefield. Every country and airline has different policies and requirements, so triple-check everything before you commit to an expensive ticket. Always make sure to keep track of any email or text confirmations and try to speak with a person to confirm your chosen airline's policies.
Air Canada, Delta, and American Airlines all let pets travel in the cabin on a first-come, first-served basis. Remember:
Most airlines require certificates of vaccination (including rabies) issued within 10 days of travel.
Dogs must be at least eight weeks old to travel by plane.
Federal regulations have travel temperature rules for live animals (above 45°F and below 85°F).
Some airlines have specific crate requirements, check ahead.
You'll have to make separate reservations and payments for each animal joining you.
Traveling by train, bus, or boat with dogs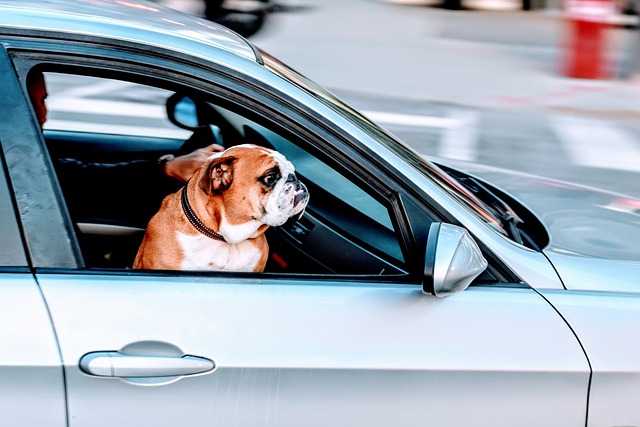 In the United States, you're probably less likely to see pets on train and bus travel than on a flight. Amtrak only permits dogs that weigh less than 20 pounds (service animals are exempted), while Greyhound and other interstate bus lines only allow service animals. Policies on regional and local services vary widely so be sure to check well in advance of your travel to avoid stress along the way.
Ships are not an ideal environment for dogs and it's quite unusual for them to go on a cruise vacation. While all cruise companies welcome registered service dogs, only a handful allow other pets. Pets are usually confined to cabins or designated kennel facilities. It's important to do plenty of research before you set sail with your dog. One famous ship that welcomes dogs on transatlantic crossings between New York and Southampton is Cunard's Queen Mary 2. Pets must remain in a well-furnished kennel area, though owners can enjoy quality time with them in other designated areas.
Making the most of a hotel stay
Once you've safely made it through your travel itinerary, you'll want to relax when you arrive. Make sure you can do this by pre-booking a pet-friendly hotel. Keep your dog as quiet as possible and always respect hotel staff, property, and other guests. Consult with the front desk about where you should walk and exercise with your dog.
Do you have everything you need for your trip? Don't forget to check pet insurance off your list. A policy from Animalia can help you access the highest quality of care anywhere in the country.
Bon voyage!
Try to Beat Our Coverage
(Hint: You Can't)
Pet insurance is like having a sensible car with
a spare tire for life's bumps.
Having Animalia is like a top-of-the-line
Rolls-Royce with a swimming pool in the trunk.
Get your pet insurance quote
Is your pet a...
Dog

Cat